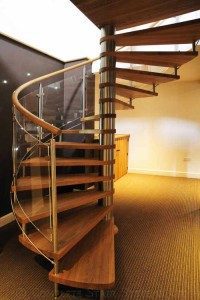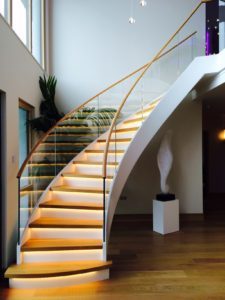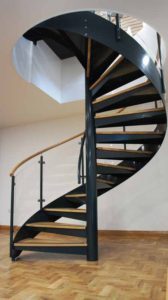 Spiral stairs, helical stairs and you.
We find there is often a misunderstanding of spiral staircases and helical stairs.  As they are not very common,  any stair with a curve or winding steps are sometimes referred to as spiral
Certainly, both can be extremely striking in appearance and sculptural in design –  but there are some key differences to look for when identifying which is which.
Shape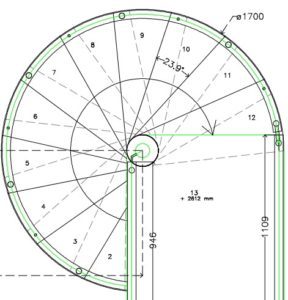 Spiral Stairs form a complete circle which is the diameter of the staircase.  This is generally between 1400-2000mm on domestic spirals and 2000mm + on commercial models.  The depths of each step are uniform and equal and the handrail normally runs around the perimeter.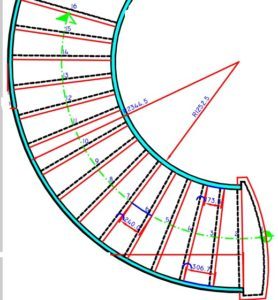 Helical Staircases, sometimes known ad 'curved stairs', often form a continuous "C" shape with a larger, consistent radius.  They can however be made to form an oval or elliptical shape configuration.
No Central Column
The key difference between the two different shapes is that a spiral staircase has a centre column supporting the treads whereas a helical staircase has a void in the middle – it has no central column.
Functionality
In terms of floor space – Spiral stairs tend to win this one, they're are monsters of efficiency and an extremely popular choice of getting between floors whilst saving a great deal of space.
Helical staircases tend to require a large space and a sizeable opening in the floor to accommodate them but are often designed to be the focal point in a room / reception.
Whilst both spiral and helical stairs have consistent riser heights and tread depths, a helical stair is certainly more easy to ascend as the tread depth at the tightest point is much greater.
Cost
Price is of course a big factor to consider and simply put, helical stairs are always going to be the more expensive option. Depending on the materials and size, a helical might be size times dearer than a spiral. Without that central column to support the treads, construction methods and grade of material are higher dramatically altering the cost.
As always, we're always keen to hear from you so get in touch with us at info@completestairsystems.co.uk or call us on 01794 522 444 with any questions you have.
Feeling inspired?
If you're looking for a spiral staircase and want to discuss your options, then get in touch with us.
You can call us on 01794 522 444 or send an email to info@completestairsystems.co.uk
Alternatively, you can use our enquiry form on the right.