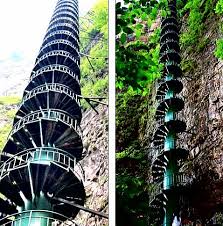 Here at Complete Stair Systems we have a real passion for all things stair related.  
From outrageous designs to quirky sculptures, in our eyes each bespoke stair is a piece of art – whether we have produced it or not.
As a weekly feature we are going to prepare and publish a number of unusual and interesting staircase photos from around the world –  – starting with this beauty in China.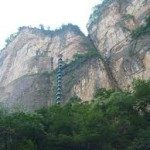 In an attempt to boost tourist numbers in Taihang, officials decided to add a 300ft large spiral staircase to the side of a mountain for direct access to the summit and to the stunning views upon assent.  Certainly not for the faint hearted ……….either to design the thing or to use it.  I gather there is a good few feet lateral movement when the wind blows strong – which is fairly frequent at this altitude!!
Apparently visitors are requested to sign a form before assent confirming they have no heart or lung health issues – and no-one over 60 is permitted.  
A magnificent piece of engineering – I would love to have seen the fitting sequence.  Goodness – have a look at that centre column!
https://www.completestairsystems.co.uk/wp-content/uploads/2013/11/Mountain-Spiral-Staircase-4.jpg
226
223
admin
https://www.completestairsystems.co.uk/wp-content/uploads/2018/04/Header-Logo-116x116-1.png
admin
2013-11-16 22:19:51
2013-11-16 22:31:43
One large Spiral Staircase.